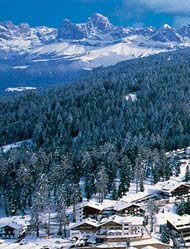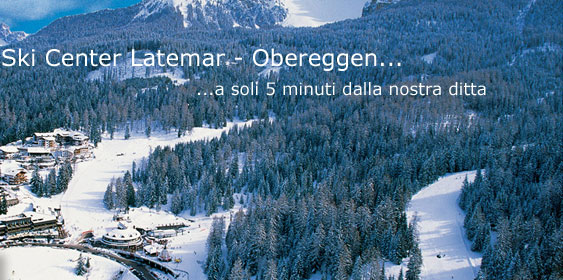 Surroundings - Ega valley


The Ega valley with its quaint Nova Ponente (1350), Ega (1100), Obereggen (1550) and Monte San Pietro (1380) villages offer different opportunities to have fun. Very special huts, cool hotels, guesthouses and apartments with great value/price ratio, the great local food and the renown South Tyrolean hospitality are just some of the reasons to come and visit our region.



Winter

The vast network of perfectly manicured runs, one ticket valid for over 40 km of different runs, the opportunity to enjoy Alps' southern flanks, with 300 days-plus sunny days, 100% snow guarantee, night skiing and sledding available, all this makes of Obereggen one of the most sought-after resorts. 18 super modern lifts carry skiers from 1.550 to 2.500 mts. 100 kms of perfectly groomed nordic skiing trails, 4 sled runs, a free bus skiers service and several winter trails for our guests. All facilities are located within a 10 minutes drive from Obereggen and can be reach via a free bus system. info@eggental.com

Summer

In summer time the Ega valley turns into hikers' paradise. They will find clearly marked trails, ranging from easy to intermediate walks through blooming meadows and shaded woods to technical climbs up vertical walls. Three free guided excursions are scheduled every week (organized by Tourism Bureau). Don't forget then Ega's hikers' bus, that drive our guests to the starting point of several day hikes. For those into cycling, this is the place to be. The vast plateau caters to all abilities (including families). To those into golfing, head straight to Monte san Pietro golf course!




Holz Pichler SpA


I-39050 Nova Ponente
Ega - Stenk 2
Val d'Ega (BZ) - Italia



Tel. +39 0471 610121
Fax +39 0471 610222



info@holz-pichler.com

VAT Number 02525110215



www.obereggen.com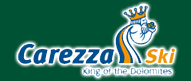 www.carezza.it